It's the End of 2017
Do you remember my focus statement for 2016? And my review at the end of 2017? At the end of 2017, I wanted to explain why I'm abandoning my focus statement and songs of the year.
Songs of the Year
In my post last year, I declared that I would continue listening to 都对也都错 every day, and that I would add another song (綻放2.0). So those are my songs of the year, and I made it all the way through the year!
First take a look at this documentary evidence from Spotify as proof that I listened to my dedicated song of the year quite a lot.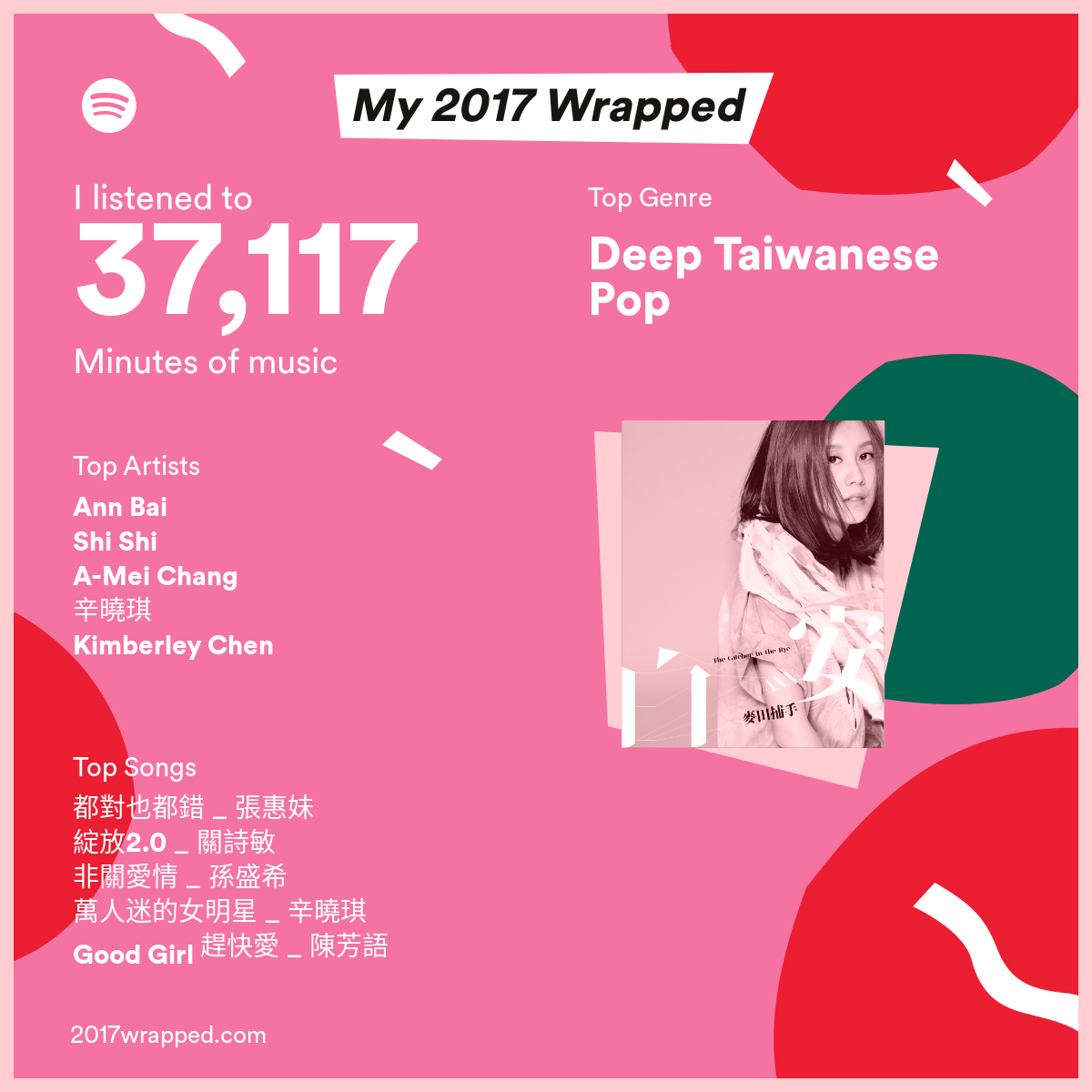 The Image as Text
It's a bad practice to assume that image will load, or that everyone can read it without assistive devices, so here's that same information.
I listened to 37,117 minutes of music.
That's about 616 hours, or more than twenty five full days.
Top Genre: Deep Taiwanese Pop
"Mandopop" was a leading genre too, and I don't know what Deep Taiwanese Pop is, but there you go--it is what it is!
Top Artists:

- Ann Bai (白安)

- Shi Shi (孙盛希)

- A-Mei Chang (usually now called a MEI) (张惠妹)

- 辛晓琪 (Winnie Hsin)

- Kimberley Chen (陈芳语)
I guess I'm a little surprised about the order of artists here, but it's true that I've listened to all of them quite a lot this year! And you know it's the real list given by Spotify because there is no way I want to admit to listening to Kimberley Chen that much!
And finally the list of songs, which starts with my two songs of the year:
Top Songs:

- 都对也都错 sung by a MEI

- 綻放2.0 ("Blossom 2.0") sung by Sharon Kwan

- 非關愛情 ("Let's Talk about Love") by Shi Shi

- 萬人迷的女明星 ("Million Scarlet Roses") by Winnie Hsin

- Good Girl 趕快愛 by Kimberley Chen
Again--you know it's the real list because I don't want to admit listening to Kimberley that much. But all the other songs are pretty good!
More about the Year
This year was much better than last. I had my fair share of difficulties to be sure, but I feel like I've returned to feeling "like myself." On some days, I even manage something that had only previously happened in Montreal, and only for a relatively short time: I feel truly at home and comfortable with myself and surroundings. The first time this happened, I wasn't really aware enough of myself to consciously notice it. This time however, I can almost reach out to touch this feeling when it happens (which is still pretty rare--but that's okay).
What's interesting now is that I truly believe this feeling is about being comfortable with myself, not with my situations or things.
Back to the Songs
This year, I have become quite weary of the Songs of the Year. As for 都对也都错, I still like the song and I know I will continue to revisit this song from time to time. However, I said last year that 綻放2.0 isn't a very good song, and I am now happy to inform you that it is indeed not a very good song. I won't mind if I don't listen to it even once in 2018.
I do want to stop listening to 綻放2.0 every day. I don't mind if I still listen to 都对也都错 every day, but the truth is that I'm finding it easier and easier to skip some days when my schedule changes a little. Not because I decide not to listen to the songs--usually because I start doing something else and then forget.
I don't really need to physically listen to the songs every day any more--at least not now. Partly that's because I've long since been able to listen in my mind without hearing the songs externally, but it's mostly because I believe I've internalized some sort of message already.
What's Next
Rather than using a focus statement with a daily reminder song, I'm moving on now to a quest for focus itself. The principal method I plan to use in this effort is to memorize more information, specifically texts (which will also help me learn Chinese) and songs (which will also help me learn clarinet). So in a way it's not too different from what I was doing previously, except I'm refocussing on the act of focussing itself!